Rank the investment universe to generate a list of stocks that are attractive on a relative basis within each sector.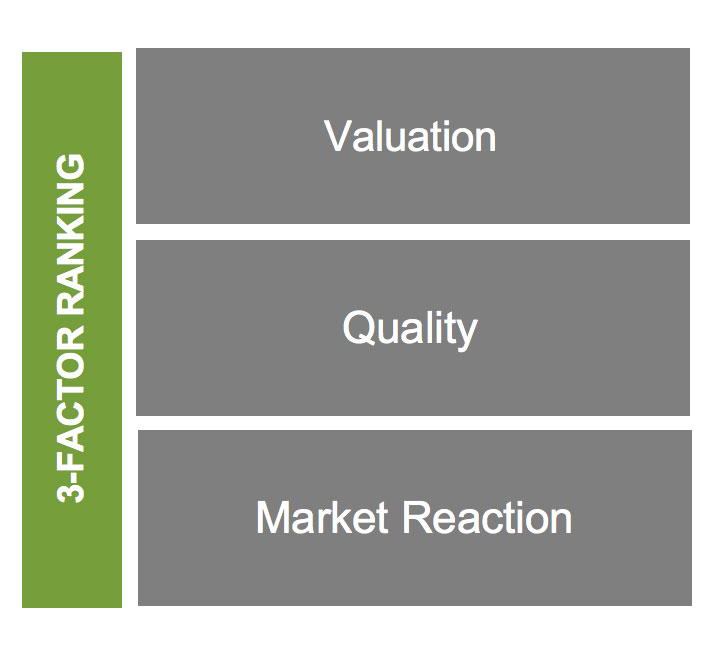 SCP utilizes a weekly report appraising various quantitative factors, providing a ranked list of companies within each sector. Portfolio Managers use the ranking system to narrow the field of candidates without excluding any companies from consideration. The ranking system provides a consistent set of metrics to analyze how the companies may rank over time.
Factors used to calculate ranking include, but are not limited to:
Valuation
Price to Free Cash Flow
Price to Earnings
Price to Book
Price to Sales
Enterprise Value to EBITDA
Dividend Yield
Quality
Return Metrics
Margins
Analysis of Accruals
Capital Structure
Capital Allocation
CAPEX to Depreciation
Net Income to CFFO
Risk Indicators
Market Reaction
Stock Price Trend
Consensus Estimates
Estimate Revisions
Liquidity
Fundamental research seeks four tenets of quality.
Our investment team conducts comprehensive fundamental analysis to evaluate each company's core competencies,  financial strength, competitive advantages, and management behaviors.
Stable and understandable business model
Understandable business
Predictable and favorable long-term prospects
Low technology/fashion obsolescence
Strength of balance sheet and free cash flow generation
Superior long-term profitability
High returns
Balance sheet strength
Debt coverage
Solid management behaviors and culture
Accretive share repurchases
Stable accounting practices
Consistent communication
Reinvestment trends
Dividend history
M&A
Company has "edge" on competitors
Distinguishable product or service
Durable advantage over the long-term
If no competitive advantage; company must be a low-cost operator
Establish probability-weighted price targets to build concentrated portfolios.
Establishing Probability-Weighted Price Targets
Guides entry and exit positions
Review investment thesis and probability-weighted price targets at minimum on a quarterly basis
Sell Discipline
Deterioration in company fundamentals that change investment thesis or risk profile
A more attractive investment opportunity exists in another company
Exceeding estimated fair value
Misjudgment
General Guidelines for Portfolio Construction
Build concentrated positions in companies, industries, and sectors that are fundamentally and quantitatively attractive
Investment with at least 2-3 year time frame
We do not constrain the portfolio to any systematic risk factors
Be fully invested